Our range of wools is used mainly in top quality and luxury bedding, which is experiencing a return to the use of natural fibres.
. the know-how, evolution and adaptation to today's needs and technologies for a ever improving comfort.
Selected for their remarkable crimp and their exceptional volume, our wools are used to produce very light and comfortable quilts.
Highly skilled people and permanent control of all treatment processes guarantee a neutral odour, to both our scoured or washable wools.
If you examine a wool fibre under a microscope, you will see it is made up of overlapping scales. This sophisticated and natural biological structure offers the best insulation and the highest comfort... .A natural structure more advanced than any man made fibre !
SCOURED WOOL
Carefully scoured, they are used mainly to produce quilts, futons and mattress covers.
SCOURED AND WASHABLE WOOL
DBCwool offers several optional treatments :

- Anti-felting treatment : An efficient machine-washable treatment (40° with wool program) that keeps the wool's remarkable volume.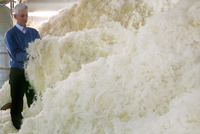 - "Total Easy Care" treatment : Not only machine-washable but also tumble-dryable at low temperature, only using the wool-program.

- Anti-dust mite, anti-fungi, anti-bacterial and anti-moth treatment : This treatment, greatly appreciated by our Asian and European customers, is 100 % efficient, as proven by several tests made by well known independent laboratories. Own experience leads us to affirm that even allergic children may also enjoy the incomparable comfort of wool quilt.

- Ecological treatment : This brand new anti-felting treatment is guaranteed 100 % chlorine-free and is also totally eco-friendly.



NEW

- Scoured schorn wool, MACHINE WASHABLE at 60°C !
Ideal product for bedding used by HOTELS.
Our selected wools are certified Oeko-Tex Class 1, allowing direct skin contact, even for babies.
Actualités
NOTRE ACTUALITE BELGE via la page FACEBOOK de LANADO

N'hésitez pas à nous contacter pour plus d'infos à propos de nos collectes de LAINE annuelles.
Archives
More pictures here!