Home
> Why wool ? Why our wool ?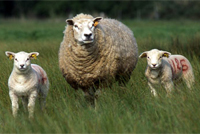 If you examine a wool fibre under a microscope, you will notice it is made up of overlapping scales. This sophisticated and natural biological structure gives the best insulation and the highest comfort.

.A natural structure more advanced than any man made fibre !
- Giving unequalled comfort all year round, wool is an excellent thermal insulator, wool is protecting against heat as well as against cold. Wool is therefore perfectly suitable for both summer and winter quilts, being very light and much more comfortable than synthetic alternatives.

Don't we find sheep in every climate, in high mountains as well as in deserts ?
- As a totally natural fibre, our 100% pure shorn wool is able to absorb up to 30% of its own weight in water, without the sensation of dampness. The moisture then dissipates slowly afterwards. This natural dissipation avoids the so-called "thermal choc", caused by perspiration cooling down on the skin, often causing bad colds.
100% natural fibre, with a soft and pleasant touch.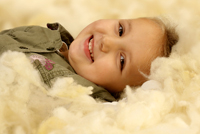 - Wool is naturally flame-resistant, contrary to synthetic fibres.
- Wool is a very good insulator against noise and vibrations.
- Wool is springy and can be extended without breaking, giving a very good shape stability.
Our wools are guaranteed 100% pure shorn wool. Not blended with any inferior material.
Selected for their remarkable crimp and exceptional volume, our wools are used to produce very light and comfortable quilts. Our wools are odourneutral due to careful scouring processes.
Actualités
NOTRE ACTUALITE BELGE via la page FACEBOOK de LANADO

N'hésitez pas à nous contacter pour plus d'infos à propos de nos collectes de LAINE annuelles.
Archives
More pictures here!