Our range of wools is used mainly in top quality and luxury bedding, which is experiencing a return to the use of natural fibres.
. the know-how, evolution and adaptation to today's needs and technologies for a ever improving comfort.
[Read More]
EFFECTS : NEPPS and SLUBS used to produce FANTASY YARNS
We are one of the few European specialists able to produce big quantities of effects for fantasy yarns, for both the carpet industry and hosiery.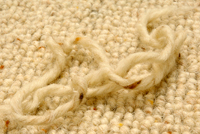 Actualités
NOTRE ACTUALITE BELGE via la page FACEBOOK de LANADO

N'hésitez pas à nous contacter pour plus d'infos à propos de nos collectes de LAINE annuelles.
Archives
More pictures here!